Dispensers
Features and Recommendations for Choosing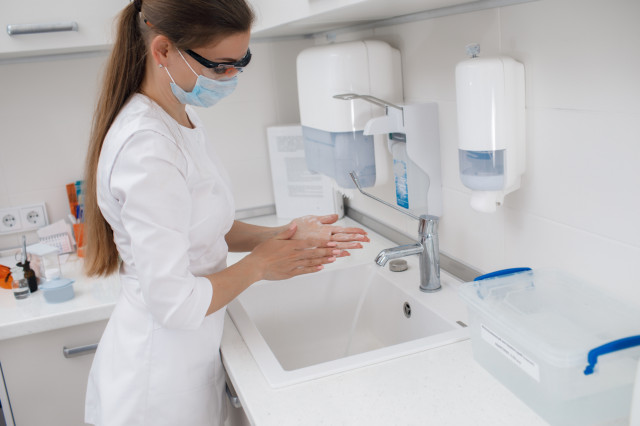 Content
Dispensers: Features and Recommendations for Choosing
Thorough hand hygiene is an important condition for preventing the development and spread of various diseases. And you need to monitor it absolutely everywhere — at home, in educational institutions, offices, and enterprises. And in the medical and cosmetology industry, you can't do without proper hygiene at all. And to ensure that hygiene is maintained at a very high level, it is worth using a dispenser. It's a simple device that can be installed absolutely anywhere. Let's try to understand in more detail what a dispenser is, why you need it and how to choose it.
What is a dispenser and why do you need one?
A dispenser is a special accessory that facilitates the dispensing of detergents and antiseptics, as well as reduces their consumption. It has a built-in mechanism for dispensing liquid or thick soap and ensures the highest level of hygiene. Thanks to the dispenser, the palms do not come into contact with the contents of the device, which guarantees excellent protection against transmission of infection between people.
Manufacturers offer three main types of dispensers:
Mechanical;
elbows;
Touch.
Let's try to consider their features in more detail.
Mechanical Dispensers
A mechanical dispenser for detergent or antiseptic is a simple device that delivers a portion of liquid by push-button or push-button method. It is characterized by an affordable cost, simple functionality and ease of maintenance. A mechanical dispenser is most often bought for the home. It can also be a good find for use in an office with few employees.
The main advantages of such a device are:
dispensing a fixed portion of soap or antiseptic;
absence of skin contact with detergent or antiseptic at the site;
affordable price;
No need to connect to the mains or batteries.
A mechanical dispenser for soap or antiseptic has only one drawback: it requires contact with a button or a place of pressure.
Elbow Soap Dispenser
This device is actually a subset of the mechanical one, as it works on the same principle. However, the elbow liquid soap dispenser differs in the principle of operation - to dispense a portion of liquid, you need to press the lever with your elbow. This avoids contact between the hands and fingers and the device.
The device makes it possible to maintain an excellent level of cleanliness even in public places with high traffic. This can be very convenient for healthcare professionals for whom scrupulous hygiene is an important necessity. Also, many advise to buy a dispenser for liquid soap elbow in the kitchen: to wash dirty hands, you do not need to touch the body of the device. It is also installed in public or private restrooms. The device ensures trouble-free supply and economical consumption of soap.
The only drawback that such a liquid soap dispenser has is that it does not look the most attractive. However, for use in enterprises and medical institutions, the design of the product plays a secondary role.
Touch Dispenser: Characteristics
In shopping and entertainment centers, bathrooms of railway stations or hospitals, it is better to install a sensor soap dispenser. Such a device will help to keep your hands perfectly clean, as it does not require any touching of the dispenser - you just need to bring your palms to the device. It is also preferred if they are looking for a high-quality medical dispenser. After all, in the conditions of examination rooms and other rooms in a hospital or clinic, the prevention of the spread of infection plays an important role.
An antiseptic dispenser can also be touch-sensitive. This product sprays the disinfectant as a spray, which allows you to evenly treat the entire skin of your hands.
Types of dispensers depending on the type of attachment
The most suitable choice for home use is a desktop dispenser. It is lightweight, compact and portable. Such models can be easily moved, for example, from the kitchen to the bathroom.
For example, the MANORM Touch Liquid Soap Dispenser can be very convenient – it works very quickly when you put your hands on the tap, has an attractive, futuristic design and is easy to clean. The foaming function makes it possible to further save on the cost of detergents.
In educational institutions and public places, it is still better to place a wall-mounted dispenser for liquid soap - mechanical or sensor. Such devices are securely attached, which will make it difficult to steal them, make it impossible to accidentally fall and damage. For example, the FENGJIE BATHROOM manual spray dispenser can be attached to the surface using both dowels (which are included in the kit) and double-sided adhesive tape.
Thus, the choice of a dispenser depends primarily on the purpose of such a device. And when choosing such a product, take into account the reputation of the manufacturer. Really high-quality dispensers will last for a long time.
Comments